How to Play?
Embark on a Thrilling Outdoor Adventure!
Solve riddles and puzzles sent to your phone in an Outdoor Escape Game! Our games combine the thrill of a treasure hunt with the challenge of an escape room, all enjoyed outdoors.
It's a unique and exciting way to spend time with friends, family or
colleagues
, and break away from everyday life.
No application installation on your phone is required!
Here are step-by-step instructions on how to play:

Here are step-by-step instructions on how to play:
1 - Purchase the game of your choice and select the number of participants (Multiple teams can compete against each other in real-time or at different times on the same scenario, adding an exciting element of competition to the adventure!)

2 - Schedule your game at any time within 12 months of purchase.

3 - Prepare for the adventure by entering each player's info (username, email address, mobile number, and language) on the configuration page: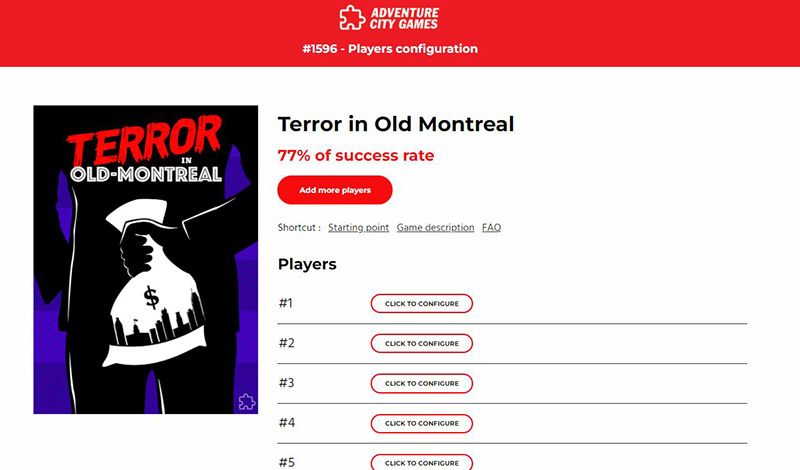 4 - On the day you want to play, make sure
all players are at the starting point
before launching the game via link.
5 - Once the game is activated, players will start receiving
messages from the narrator
.
6 - Players will
receive clues and riddles
to solve and must collaborate to send the answer when they think they have found it.
7 - To move to the next location,
players must answer correctly
. If stuck, players can ask for clues.
8 - Once the game is finished, log in to the dashboard to
track player performance
.
That's it! Have fun and enjoy the adventure.