How to Play?
Embark on a Thrilling Adventure on the streets of the city!
Solve riddles and puzzles sent to your phone in an Outdoor Escape Room! Our games combine the thrill of a treasure hunt with the challenge of an escape room, all enjoyed outdoors on the streets.
It's a unique and exciting way to spend time with friends, family or
colleagues
, and while breaking away from everyday life and (re)discovering the cultural heritage of the city in a fun way.
Here are step-by-step instructions on how to play:

Here are step-by-step instructions on how to play:
1 - Purchase the game of your choice
Multiple teams can compete against each other in real-time or at different times on the same scenario, adding an exciting element of competition to the adventure!

2 - Schedule your game at any time within 12 months of purchase
You don't need to book a specific time to play. You can enjoy the game any day of the week and at any time of the day.

3 - Prepare for the adventure by entering each player's info
You need to enter the player's name, email address, mobile number, and preferred language (English or French) on the configuration page. Additionally, you can assign a team (although it's not mandatory).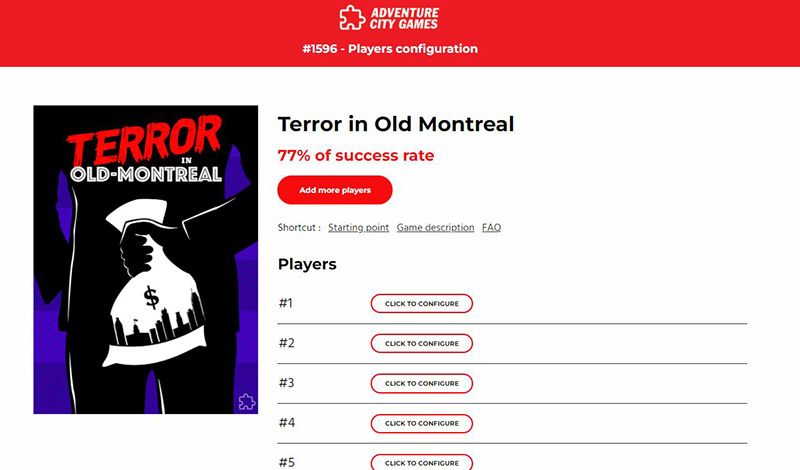 4 - On the day you want to play
Make sure all players are at the starting point before each participant launches the game via their own link.
5 - The game starts, during the adventure
Players will start receiving messages from the narrator. They will receive clues and riddles to solve and must collaborate to send the answer when they think they have found it.
To move to the next location, players must answer correctly. If they get stuck, players can ask for clues.
6 - Once the game is finished, you can track team and player performance
Each player will receive the link to the ranking when they finish playing.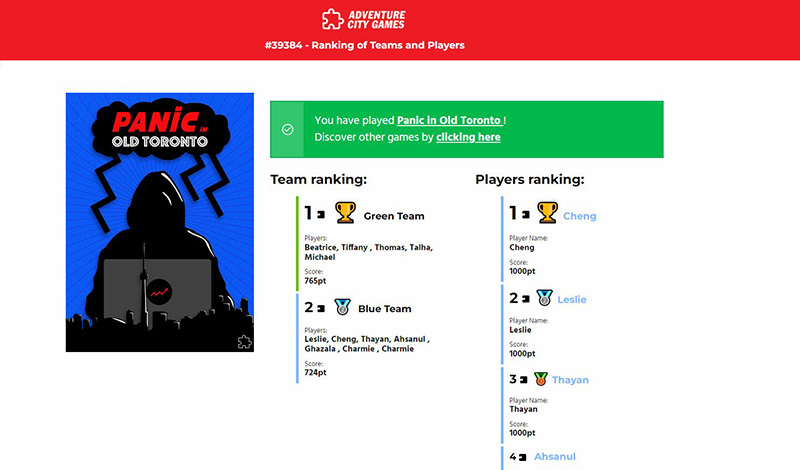 That's it! Have fun and enjoy the adventure.