Team Building
Take your team-building activity in the streets of your city. Your team will have to solve riddles 🔎 in a treasure hunt / guided walk / outdoor escape game type experience 😁

Sign up for any of our games to build social ties and invigorate team synergy.

Our games are played on a cell phone and are offered in French or English. No application installation is required.

It's very simple to get started:
Choose a game and the number of participants
Once purchased, schedule your event at any time up to 12 months from purchase date. Additional participants can be added post-purchase.
Organize your event and configure your teams
An email to configure your team(s) will be sent. Enter each player's info (username, email, mobile number). Each player will receive an activation email with a link to start the game.

Multiple teams can play against the clock at the same time or at different times on the same scenario. It's up to you.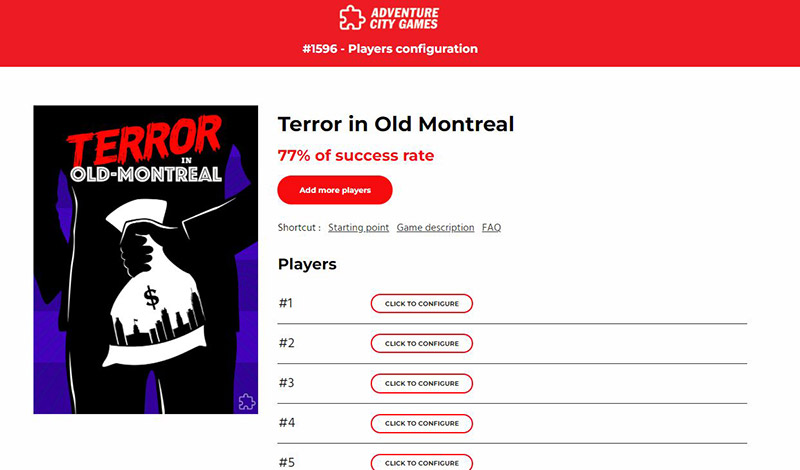 Screenshot of a configuration page
On the day of the event
All players must be at the starting point before launching the game via link.
Once game is activated, players will start receiving texts from our narrator
They will have to decipher clues and solve puzzles
Participants will have to collaborate and send the answer when they think they have found it
In order to move to the next location, players must answer correctly. If stuck, players can ask for clues
Once the game is finished, log-in to the dashboard to track players performances!
Are you ready for a unique team building experience?